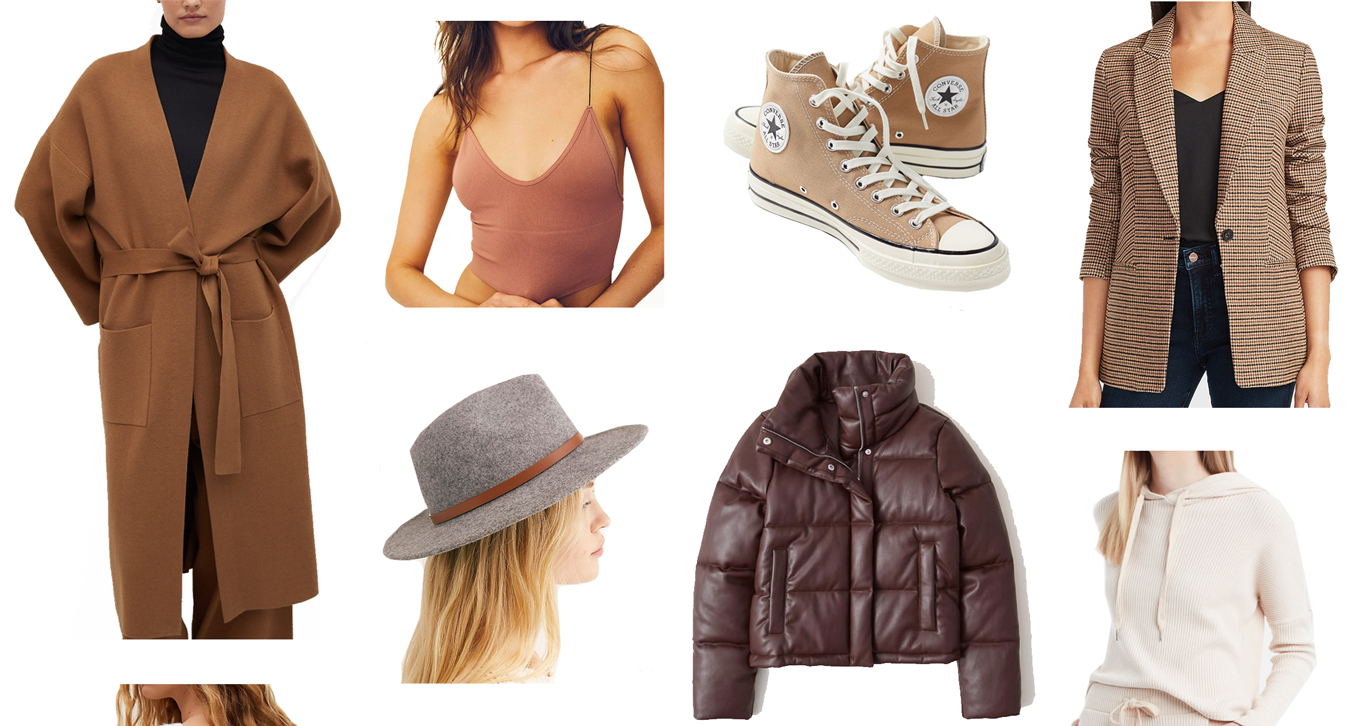 1. BROWN CARDIGAN COAT (HOW AMAZING IS THIS COLOR?!) | 2. GREY FLANNEL HAT (UNDER $100 – COMES IN 9 COLORS) | 3. TAN CONVERSE (ON SALE 30% OFF – MORE SIZES HERE) | 4. BACKLESS WHITE SWEATER (UNDER $100) | 5. RIBBED SWEATSHIRT AND JOGGERS | 6. QUILTED FAUX LEATHER JACKET | 7. TAN BACKLESS SWEATER (ON SALE UNDER $25) | 8. BROWN HIKING BOOTS | 9. BRAMI (UNDER $25 – COMES IN 14 COLORS) | 10. HIGH-WAISTED DENIM (ON SALE UNDER $100) | 11. PLAID BLAZER (UNDER $100) | 12. RIBBED BUTTON UP CARDIGAN (UNDER $100) | 13. BURGUNDY BEANIE (UNDER $25 – COMES IN 4 COLORS) | 14. WOOL BUTTON UP SHIRT (JUST ORDERED!)
This season I can not get enough of all the beautiful hues of brown. ! From pretty mocha-colored nail polish to brown leather coats and outerwear, I even found the prettiest Converse in this tan color (more sizes here). Here are a few of the best brown pieces from my fall wishlist (and a few I've already checked off since – they didn't last in my cart very long haha).
I had my eyes on this cardigan all last fall/winter and could never snag it in my size – now I'm kind of glad I waited because this season's new shade of brown is soooo good! I also just ordered this faux leather quilted coat – the quilted leather look is everything right now. The rich brown in the faux leather is stunning. I also ordered this pretty wool shirt-jacket – I'd been wanting a pretty tan/nude button up and this one will be so cozy. These tan Converse are another favorite find – the tan color makes them look really high-end so I couldn't believe they were on sale 30% off.
Below a few more pieces on my fall wardrobe wishlist:
XX, Christine